For over twenty years, Axxela has been making a strong name among oil and gas companies in Nigeria. Our commitment to make natural gas a cheaper, cleaner and more accessible alternative fuel to traditional fossil fuels has quickly gained our good standing in the oil and gas market not only in Nigeria but across West Africa. Our customers in the industrial sectors of the region continue to grow as they realise more efficiency and productivity by using natural gas as their primary or supporting source for energy generation.
What Sets Us Apart among Oil and Gas Companies in Nigeria?
As we remain unrelenting in our vision to bring excellence to the gas sector and power industry, we are dedicated to achieving the highest standards in our operations and this continues to set us apart from other oil and gas companies in Nigeria.
Innovation
Across our operations, we have implemented RMCS – Remote Monitoring and Control Systems, robust security and real-time flow monitoring system that integrates software and hardware components of our gas pipelines allowing us to remotely monitor and manage gas distribution. In seconds the system remotely retrieves and processes data from the pipelines and can detect a shortage, absent supply or a pipeline that has been vandalised and send alerts. Additionally, we're continuously investing in virtual pipeline technology to address the lack of extensive pipeline infrastructure around the country which has many times caused a shortage in areas where industrial and commercial for natural gas is rapidly increasing. With our virtual pipeline technology, we're able to bridge the natural gas supply gap, as the liquefied gas is re-gasified and supplied as natural gas. You can read more on our innovative efforts at axxelagroup.com/operations/#Innovation.
Environmental Responsibility & Sustainability
At Axxela, we take our environmental responsibility very seriously, as we aim to deliver value in the power and energy industry without compromising on the needs of the environment. Our business is focused primarily on the use of gas as a preferred alternative fuel to traditional fossil fuels, delivering benefits of cost-effectiveness, environment-friendliness and carbon emissions reductions, while contributing to meeting Africa's increasing demand for energy. We have recorded up to 32% carbon emissions reduction in our operations by converting to natural gas and many of our customers who now use natural gas as an energy source have significantly reduced their carbon footprint.
Safety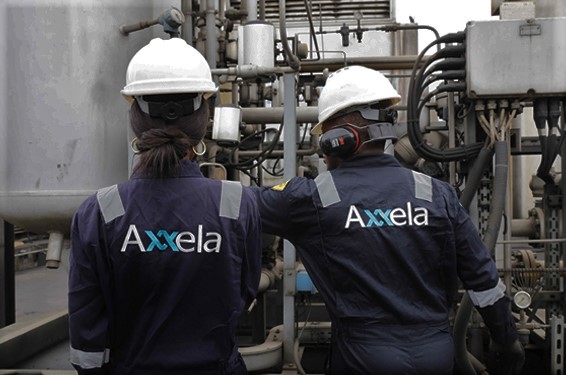 At Axxela, we make it a priority to ensure quality, safety, environmental responsibility, and the promotion of proper health and safety measures across our operations and business enterprise. In fact, we are the first among indigenous oil and gas companies in Nigeria to receive the TRIFECTA certification of Quality Management System – ISO 9001:2015, Environmental Management System – ISO 14001:2015 and Occupational Health and Safety Management System – ISO 45001:2018. Learn more at axxelagroup.com/sustainability/ehsq/
Investing in Our Host Communities
We set an example among oil and gas companies in Nigeria, by prioritising our host communities. Currently, our efforts have been driven towards improving education and job creation in communities where we have a presence. We have been involved in job creation for 60, 000 individuals through direct and non-direct initiatives. We have also awarded over $5 million towards education, where we engage our communities with a combination of approaches: provision of school amenities, adoption and renovation of schools and provision of scholarships.